Do I Need a Facelift or a Brow Lift?
4 Minute Read: 
Many people have the misconception that a facelift addresses issues with the entire face. They may want to correct problems that extend from their forehead to their neck, but the problem is that a facelift only helps to correct the lower two-thirds of the face. 
So, what do you do if you want to correct that other one-third?
Because of the confusions brought about by facial procedure results, it's important to take a look at the differences between facelift surgery and brow lift surgery so that you can know exactly what procedures you are interested in.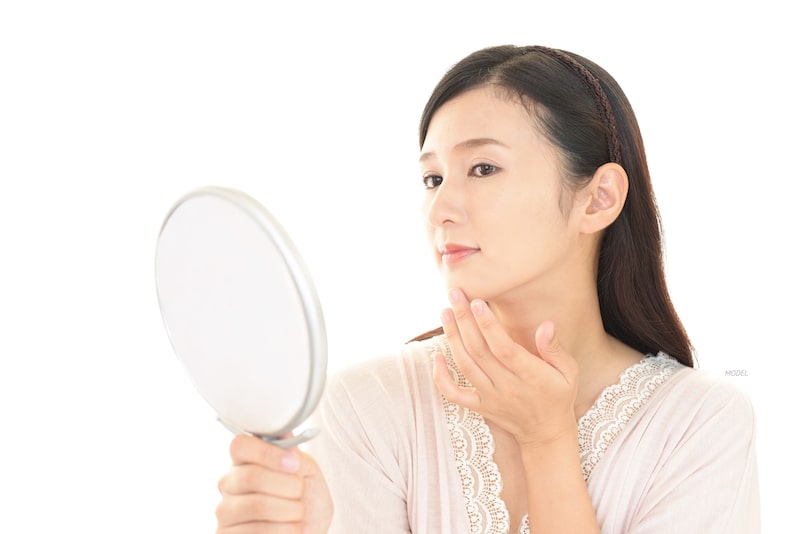 What Is a Facelift?
As we age, our skin becomes looser, and we develop wrinkles and sagging skin. Facelift surgery is a cosmetic procedure that helps correct issues on the lower two-thirds of the face (from the cheeks to the neck). 
A facelift smoothes out wrinkles and tightens the skin and underlying tissues to give men and women a more defined and younger-looking mid and lower face.
Facelift surgery is performed under general anesthesia, so you will not feel any pain or discomfort. During the procedure, Dr. Kim will make an incision that starts at the hairline and continues around and behind each ear, and ends at the lower scalp. An additional incision may be made on the underside of the chin to address any neck issues that may be present. 
Dr. Kim will sculpt and redistribute the underlying tissue and remove or redistribute any fat that may be there. Then, Dr. Kim will trim away excess and redrape the remaining skin. Lastly, the incisions are closed. This procedure takes anywhere from three to five hours to complete.
A facelift results in a smoother, healthier, more aesthetically pleasing mid to lower face that makes you look as young as you feel.
What Is a Brow Lift?
While a facelift focuses on the middle to lower portion of the face, brow lift surgery addresses the upper portion.
The forehead and eyebrows are two areas of the face that most clearly show the signs of aging. They can droop and sag, and fine lines and wrinkles can appear, making you look tired, worried, and beaten down. With a brow lift, the skin of the forehead is smoothed out and lifted with the goal of improving the contour of the brow area and reducing heaviness around the eyes
A brow lift is performed under moderate sedation or general anesthesia, so you won't feel any discomfort or pain. Most brow lifts are performed using endoscopic incisions in the hairline, which are small and easily hidden. This reduces the size and visibility of scars and cuts down on recovery time, since there won't be large incisions that need to heal. 
Once the small incisions are made, an endoscope (video instrument) is inserted into the incisions, which allows Dr. Kim to have a clear view on the underlying tissues that need to be elevated. 
This procedure usually takes two to three hours to complete depending on the type of brow lift.
What Are the Benefits of Facelift Surgery and Brow Lift Surgery?
The goals  of both facelift and brow lift surgery are to create a more youthful contour of the brow and jawline.The main difference with these procedures is simply the area of the face that is treated. A facelift addresses the middle and lower face while a brow lift focuses on the upper face. 
It is important to note that the recovery time and experience may be different between a facelift and a brow lift. For a brow lift, your initial recovery time is about two weeks, with your final results becoming evident after two to three months. 
Common recovery symptoms are swelling of the forehead which can extend to the eyes and numbness of the forehead.  Recovery from a facelift is longer, with your final results settling in after about six months. While both facelift scars and brow lift scars will be present, for the most part, they will be concealed in the hairline and behind the ears and will fade over time. 
Can These Procedures Be Combined?
Many men and women choose to combine a facelift and brow lift for greater facial rejuvenation and a more harmonious appearance. With this combination, the upper portion and lower portion of the face will be smoother and more contoured. 
Additionally, you may consider combining either a facelift or brow lift with any of the following procedures:
In the end, what you desire for yourself is the most important aspect of any cosmetic surgery. At your consultation, Dr. Kim will evaluate your face and offer advice about what procedure(s) might best help you, but the focus of any plastic surgery procedure needs to be making you feel comfortable with your appearance.
Want to Find Out More About Facelift Surgery and Brow Lift Surgery in East Bay, CA? 
Dr. Haena Kim is the leading specialist for facial plastic surgery and Asian aesthetic surgery in Walnut Creek, California, as well as the surrounding East Bay area. If you have any questions about either facelift surgery or brow lift surgery, then give us a call at (925)-891-4135, or fill out our contact form here. Online consultations are also available.