Lip fillers restore volume and improve overall size, shape and symmetry
Lip Fillers
The lips are an integral facial feature and lend themselves to the overall beauty and symmetry of your face's appearance. A full, plump pout is considered to be timeless when it comes to our culture's ever-changing beauty standards. However, those born with naturally thin lips or lips that have thinned-out due to the aging process may find their self-confidence suffering or a lack of sensuality when they pucker-up.
Lip fillers, also commonly referred to as lip injections, work to temporarily add or restore volume to thin and aging lips to improve upon their overall size, shape and symmetry. They may also be used to fill in and smooth fine lines and wrinkles that surround the mouth, such as smoker's lines, for more youthful and supple-looking lips. Whether you wish to restore the former glory of the lips you had during your youth or merely hope to add more puffiness and definition for that impactful "wow-factor", Dr. Haena Kim MD is proud to offer her patients the most safe, effective and long-lasting lip fillers available today to help them achieve the kissable lips they crave.
Who are lip fillers for?
Lip fillers are FDA-approved for both men and women over the age of 21 who desire to plump up thin lips and create a more voluminous look without surgery, anesthesia or downtime. Lip injections provided by skilled and artful injectors such as Dr. Haena Kim can help to balance the appearance of uneven lips or asymmetry, or even minimize the appearance of a smile that appears too "gummy." While you will require on-going treatments to maintain the temporary enhancements you achieve, lip fillers are an excellent way to improve your lips' appearance without committing to the permanence of cosmetic lip surgery or long recovery periods.
Naturally thin lips
Lips that stretch out and disappear when you smile
Fine lines around the upper and lower lips (smoker's lines or lipstick lines)
Downturned corners of the mouth
"Gummy" smiles
Lip asymmetry or unevenness
Lip filler options
While lip fillers can be composed of a variety of natural or synthetic ingredients to boost the fullness of your lips, not all lip fillers provide the same results. Lip fillers need to be both smooth and spreadable to ensure that the lips do not develop bumps, unevenness or appear overdone after your injections are administered. That is why Dr. Kim utilizes hyaluronic acid (HA) fillers to augment the lips of her patients for the most subtle and natural-looking outcomes.
HA is a substance that already occurs naturally in your body and plays a crucial role in keeping your skin and soft tissue cells supple and hydrated throughout your youth. HA injectables are composed of a soft and smooth injectable gel, making them ideal for smoothing fine lines and restoring luscious volume both in and around the lips.
What to Expect From Your Lip Filler Treatment
Your lip filler injection appointment will take place in the comfort of one of our treatment rooms in-office at Dr. Haena Kim MD, and will take as little as 15 minutes to an hour to complete depending on the amount of injectable you require along with your unique aesthetic goals. Dr. Kim is double board-certified in head and neck surgery as well as facial plastic and reconstructive surgery and uses this expertise to guide her in choosing your lip injection sites, injection depth and injectable product that will deliver the best outcome for your needs.
Your lips will first be prepped for the treatment, and a topical numbing cream will be applied to ensure you are comfortable throughout the duration of your procedure. As the injections are administered, you may feel a brief pinch as the ultra-fine needle breaks the skin; however, most patients tolerate the treatment with ease. As a minimally-invasive procedure, there is no downtime necessary after your lip fillers have been administered, so you may immediately resume your normal daily activities.
Your Lip Filler Results
While there is no recovery period needed after your lip injections, you may still experience side effects. Minor bruising, swelling, redness or tenderness is likely to occur at the site of your injections but will subside within several hours or days of your lip filler treatment. You should be able to immediately see the visible enhancements provided by your lip fillers with noticeably fuller and more youthful-looking lips. Depending on the filler product selected, your beautiful and voluminous pucker should endure for 6 to 18 months before you return for your next appointment.
If your thin or aging lips have left you with a lackluster pout, lip fillers are a highly-effective and safe solution to temporarily add shape and suppleness to your pout for months or even years without surgery or downtime. To discover if lip fillers are right for you and your lip goals, contact Haena Kim MD today at (925) 891-4135 to book your consultation.
Dr. Haena Kim Facial Plastic and Reconstructive Surgery is located in Walnut Creek, CA. We serve the surrounding East Bay areas, including Contra Costa County, San Ramon, Concord, Pleasant Hill, Danville, Richmond, San Pablo, and Lafayette. 
Dr. Haena Kim Offers the Following Dermal Fillers and Facial Injectables:
Frequently Asked Questions
Lip fillers can give most women the size and shape of lips they want. However, it is critical to have realistic expectations and goals. While style trends driven by Hollywood and social media tend to favor fuller lips, it's essential to consider the proportions and contours of your face when having your lip-filler treatment done. Very plump lips may look great on your celebrity crush but out of place with your unique and beautiful facial features. In this situation, the advice of a competent board-certified facial plastic surgeon, like Dr. Haena Kim, can be invaluable. Your surgeon can recommend the ideal amount of filler to achieve your goals while maintaining your overall facial harmony. Before and afters can help you visualize your look so you can choose your results with confidence.
Yes, you can have a single lip treated; you don't have to have both lips treated if you are already satisfied with the look of one of your lips. Most individuals naturally have some asymmetry in their facial features. In most cases, this factor is subtle and is seen only by us. However, a more pleasing overall lip appearance may be achievable by enhancing just one of your lips. This can bring both lips into better balance, visually, as well as improve the harmony between your lips and other facial features. Ask board-certified facial plastic surgeon Dr. Haena Kim if you're a good candidate for a single-lip treatment if you are unsure.
One of the many benefits of lip fillers is that they are a long-lasting but not permanent cosmetic solution. If you decide to change your lip look after a few months — to a fuller or thinner look — you can do so quickly and safely by having more or less filler during your next touch-up. If you have decided to discontinue fillers entirely, you can have complete peace of mind that your lips will return to their original size and shape in time, with no adverse side effects, once the lip filler has been absorbed by the body. If you choose not to wait, a board-certified facial plastic surgeon, like Dr. Kim, can quickly and easily reverse the effects of your lip filler through a follow-up injection. Your lip appearance is completely yours to control.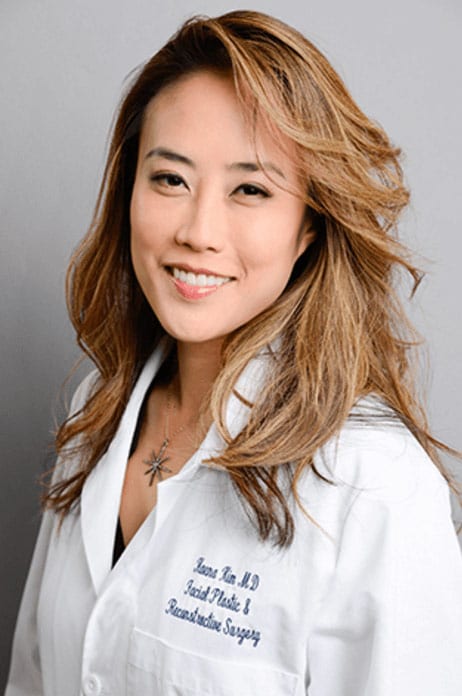 Maintaining a healthy, natural beauty always starts with a first step.
Let us take that journey with you.
(925) 891-4135

Before and After Photos - Individual results may vary. Some images may be models.
© Copyright 2021 | HK Facial Plastic Surgery Inc. | Accessibility Statement | Privacy Policy | Digital Marketing by Plastic Surgery Studios