Neck Lift in Walnut Creek, CA
When you look in the mirror and notice signs of aging, your eye is likely drawn to fine lines and wrinkles on your face. Years of laughter, sun exposure, and the passage of time can take a toll on your skin. This can make you look older and more tired than you feel.
While the face is often the focus of most rejuvenation treatments, the neck and chin can show signs of aging. Although often overlooked, addressing the neck and chin may be the key to achieving a fully revitalized appearance and restoring beautiful, youthful contours.
Dr. Kim can help you put your best face forward and reclaim more youthful features with a wide array of surgical treatments. Dr. Haena Kim is a double board-certified facial plastic surgeon in the East Bay, specializing in rejuvenative plastic surgery for the face and neck. Combining a neck lift with her other anti-aging procedures can create a subtle, refreshed look that will have others guessing what your secret is!
What Can a Neck Lift or Neck Liposuction Correct?
Loose Skin and Wrinkles
---
If you are bothered by loose skin, wrinkles, or sagging jowls, a lower rhytidectomy (neck lift) may reduce these visible signs of aging. This treatment will remove excess skin and tighten the tissues to produce more youthful-looking neck contours.
Excess Fat Under the Chin
---
Some people develop a 'double chin' due to genetics, age, or weight gain. Neck liposuction can remove stubborn fat deposits beneath the chin. This can improve your overall appearance and craft more defined and attractive facial contours.
Vertical Muscle Banding
---
If your primary concern is lateral or vertical lines along your neck, a platysmaplasty can help. This technique is used to eliminate bands on the neck and tighten the underlying muscles, leaving a smoother and more youthful-looking neck and upper décolleté.
How Is Neck Lift Surgery Performed?
Step 1: Consultation
During your consultation, Dr. Kim will start a transparent dialogue with you. She is there to support your cosmetic goals and carefully guide you through your transformation.
Dr. Kim performs each neck procedure with your individual needs in mind. Depending on the areas you'd like to correct, Dr. Kim may perform a platysmaplasty, lower rhytidectomy, neck liposuction, or a combination of all three. She will discuss each procedure in detail during your consultation and recommend options to help you reach your goals.
The techniques Dr. Kim uses will vary depending on your specific concerns. The overall effect she seeks to provide will create a more youthful facial profile and eliminate the signs of aging on your face. Dr. Kim will clarify each procedure and technique prior to surgery to ensure that you feel prepared, ready, and excited to proceed.
Regardless of the techniques used, Dr. Kim's artistic touch, gentle methods, and experienced eye can help you achieve beautiful and natural-looking results. She always seeks to harmonize your new facial contours with your overall appearance.
Step 2: Anesthesia
Neck lift surgery is usually performed under general anesthesia (or, more rarely, local anesthesia with sedation) to ensure safety and comfort. Neck liposuction is also usually performed under general anesthesia. Dr. Kim prioritizes her patient's comfort and safety at all times.
Step 3: Incisions
If Dr. Kim performs a lower rhytidectomy, she will make small incisions in the forehead or behind the ears. This allows her to tighten the skin, reduce sagging, and remove wrinkles in the lower face.
A lower rhytidectomy can restore fullness in areas with volume loss to ensure a balanced, natural appearance. Once your aesthetic concerns are corrected, the underlying skin and tissue will be re-draped and tightened to support your new facial contours.
If you want to reduce lateral and vertical muscle bands in the neck, Dr. Kim will usually perform a platysmaplasty to lift and reposition your neck muscles. These muscles often separate and become pronounced with age. This procedure brings them back together using sutures. Once they are tightened, Dr. Kim will secure the surrounding tissues and neck skin and close the incision behind the ears.
If you are troubled by a "double chin" or excess fat below your jaw, Dr. Kim can remove submental fat in that area. Neck liposuction redefines your jawline to create a sleeker appearance. This minimally invasive procedure uses a small, straw-like tool called a cannula to siphon excess fat through small incisions strategically placed to minimize bruising and scarring. This procedure is more precise than other more common types of liposuction.
Step 4: Combination Procedures
When combined with facelift surgery, your results will be more cohesive and complement the contours of your face. For this reason, Dr. Kim usually suggests combining a neck procedure with a facelift.
Neck lift surgery and neck liposuction can be performed without combining with other procedures. This may be ideal if you have previously undergone a facelift procedure or if your neck is overly affected by signs of aging due to genetics, athletics, or sun exposure.
For patients who want to reverse significant volume loss in the face, a facial fat transfer also works well when combined with a facelift.
What Can I Expect After Neck Lift Surgery?
Recovery
Most patients can resume most normal activities and return to work within one or two weeks of the surgery. Complete recovery may take up to two months. During this time, patients should refrain from rigorous activities, avoid direct sunlight, and refrain from soaking their incision sites.
Recovery times will vary between patients and depend on several factors, such as the extent of your procedure(s) and your body's natural healing properties. Dr. Kim will provide you with detailed post-operative instructions to ensure a smooth recovery. Your surgical results will be long lasting with proper aftercare.
Scars
Neck surgery consists of multiple steps that vary depending on which techniques are being performed. Similarly, the incisions made will depend on your unique needs and aesthetic goals. Dr. Kim takes great care to reduce the visibility of any scarring. Most scars will be concealed in the hairline, behind the ears, or under the chin, where they are not easily visible.
Pain
Immediately after surgery, your neck will feel tender, sore, and tight. You'll also notice moderate amounts of bruising and swelling around the incision sites. Most patients can manage these symptoms with over-the-counter medication and proper bandaging. If necessary, Dr. Kim will prescribe other medications to treat post-surgical symptoms.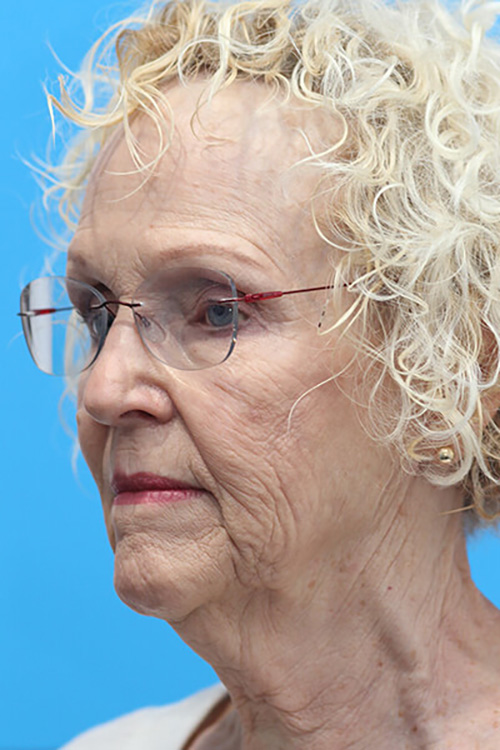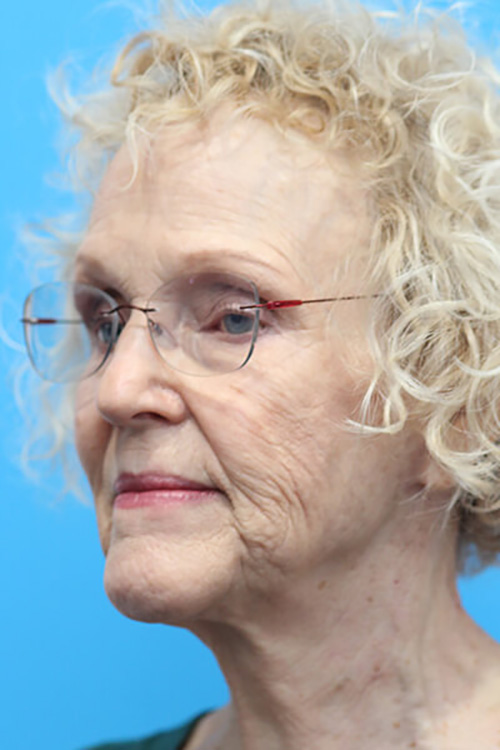 Frequently Asked Questions About a Neck Lift
Q. How long will my neck lift surgery take to perform?
Most neck lift or neck liposuction surgeries take between one and four hours, depending on the extent of the procedure.
---
Q. Am I a good candidate for a neck lift?
Neck lift procedures are suitable for both men and women looking to reduce the appearance of age or correct specific cosmetic concerns. If you experience the following, you're likely a good candidate for a neck lift procedure:
Stretched loose skin around the neck, known as a "turkey wattle"
Lateral or vertical bands, known as platysmal bands
Sagging skin or jowls at the jawline
Excess skin and fat beneath the chin
The appearance of a "double chin"
Wrinkles and deep lines on the lower face
Ideal candidates will also be physically healthy and have good skin elasticity to ensure optimal results. Patients considering a facelift, brow lift surgery, or other facial procedures are usually good candidates for a neck lift or neck liposuction.
Having reasonable expectations is important — a neck lift can significantly improve your appearance, but it cannot stop the aging process.
---
Q. How much does a neck lift cost?
The cost of neck lift surgery or neck liposuction will vary significantly depending on your personalized aesthetic goals, the extent of the procedure, and the number of combined procedures you choose. For this reason, Dr. Kim will provide you with a personalized neck lift cost at the conclusion of your consultation.
---
Q. When will I see the final results of my neck lift?
It can take several months for patients to see their final results — most patients see their initial results within four to six weeks as swelling fades. However, the final contours of the face and neck may not settle into their final form for two to six months.
---
Q. Why choose Dr. Kim?
Dr. Haena Kim is a double board-certified plastic surgeon who specializes in beautifying the face, head, and neck. She understands that your face is the image you present to the world. She has dedicated her practice in Walnut Creek to helping patients love what they see in the mirror.
---
Q. Does Dr. Kim provide before and after photographs of previous neck lift patients?
Yes. Dr. Kim provides easy access to neck lift before-and-after photographs available in our online gallery. She may also provide targeted before-and-after photos during your consultation to provide you a better idea of how she will treat your specific concerns.
---
(925) 891-4135

Before and After Photos - Individual results may vary. Some images may be models.
© Copyright 2023  | HK Facial Plastic Surgery Inc. | Accessibility Statement | Privacy Policy | Digital Marketing by Plastic Surgery Studios