Lower Blepharoplasty (Lower Eyelid Surgery) in Walnut Creek, CA
The eyes are among the most prominent features of the face. Unfortunately, they are also one of the first areas to succumb to visible signs of aging. The delicate skin and tissues that surround and support the eyes are especially susceptible to the aging process.
As you get older, the skin starts to lose its firmness and elasticity, causing the lower eyelids to become saggy and wrinkled. The fat pads located beneath the eyes can also begin to protrude or become displaced, resulting in a puffy or swollen appearance under the eyes. These conditions can make you look older or more tired than you feel.
What Is Lower Blepharoplasty?
Lower eyelid surgery, also known as lower eyelid blepharoplasty, is a surgical procedure that removes excess skin and fat beneath the eyes. An eyelid lift can turn back the clock on your appearance and allow you to look well-rested and rejuvenated for years to come.
If you have noticed chronic puffiness under your eyes (that no amount of sleep or makeup can conceal) or saggy eyelids, it may be time to consider lower eyelid surgery. At Dr. Haena Kim's facial plastic and reconstructive surgery practice, our eyelid surgery patients are consistently amazed at how this plastic surgery procedure can make such a difference in their appearance.
What Can Lower Blepharoplasty Do for Me?
Reduce Eye Bags and Puffiness
---
Excess or displaced fat pockets under your eyes can create bags and puffiness. While most people experience bags under their eyes when tired, age can cause this to become a permanent state of affairs.
Droopy eyelid surgery can help by removing unwanted fat and redistributing fallen fat under your eyes.
Reduce Under-Eye Wrinkles
---
Skin laxity and volume loss beneath the eyes can lead to sagging skin and under-eye wrinkles.
Lower eyelid lift surgery can smooth unwanted wrinkles beneath the eyes by removing excess skin and tightening the remaining tissues.
Create a More Alert Appearance
---
As you age, your lower eyelid skin and muscles may become lax, and fat deposits can move out of place. This can make you look more tired, less alert, and older than you are.
Lower blepharoplasty can rejuvenate the appearance of your eyes to help you look more energetic, alert, and youthful.
How Is Lower Eyelid Lift Surgery Performed?
Consultation
If you're interested in lower lid blepharoplasty, let double board-certified Dr. Kim guide you through the process. From consultation to aftercare, she is dedicated to patient comfort and safety.
During your in-person consultation, Dr. Kim will carefully assess your aesthetic concerns and goals. She will then determine which procedure or combination of procedures can produce the results you desire.
The Lower Eyelid Procedure
Incisions
Dr. Kim will first create small and discreet incisions just below your lower lash line or on the inside of the eyelid to avoid visible scarring.
Addressing Fat
She will then remove or reposition the fat under your eyes through these incisions to create a smooth and natural contour beneath the skin of the lower lids.
Addressing Skin and Muscles
Depending on the patient, excess sagging eyelid skin may be removed, and the lower eyelid muscle may be tightened.
Closing the Incisions
The incisions will be closed and, in most cases, should be virtually undetectable after they heal. In cases where the approach is from the inside of the eyelid, there will be no external visible scars.
Combination Procedures
Lower blepharoplasty may be combined with other cosmetic procedures, such as:
What to Expect After Lower Blepharoplasty Surgery
Recovery
What Is Lower Blepharoplasty Recovery Like?
You will be able to return home to recover a few hours after your lower blepharoplasty is complete. Most patients feel comfortable returning to work or normal daily activities within five to seven days of their procedure.
You should avoid strenuous activities and exercise for two to three weeks or until you receive clearance from Dr. Kim. Patients will also be encouraged to wear sunglasses while outdoors to avoid irritation from wind and UV rays.
Dr. Kim will provide you with detailed post-operative and aftercare instructions to ensure your recovery process goes as smoothly as possible. She may recommend oral vitamin C, topical arnica, and ice to speed up your recovery. These treatments can reduce symptoms like bruising and swelling.
Side Effects
Are There Side Effects After Lower Blepharoplasty?
Potential side effects after under eye surgery include:
Swelling
Bruising
Dry eyes
Eye discomfort
Temporarily blurred vision
These effects should resolve on their own within a few days or weeks.
Scars
Will Lower Blepharoplasty Cause Scarring?
Your incisions will take a couple of weeks to heal. Scarring will be hidden within the natural folds of your skin. This ensures you achieve the most natural-looking rejuvenation possible.
In cases where the approach is from the inside of the eyelid, there will be no external scars.
Results
When Will I See My Blepharoplasty Results?
The results of your lower lid blepharoplasty should be apparent after two to three weeks. This is when most residual bruising and swelling subsides. It can take several months for your eyes to heal completely and all of the swelling to dissipate.
How Long Does Lower Blepharoplasty Last?
While nothing can prevent the natural aging process, you can expect your results to last for several years. A healthy lifestyle and a proper skin care regimen can extend your results.
After you have fully healed, you may choose to enhance or prolong the effects of your eyelid lift procedure with nonsurgical treatments such as BOTOX® Cosmetic or dermal fillers.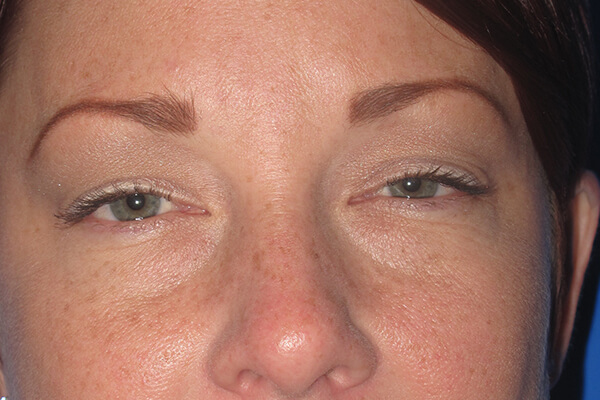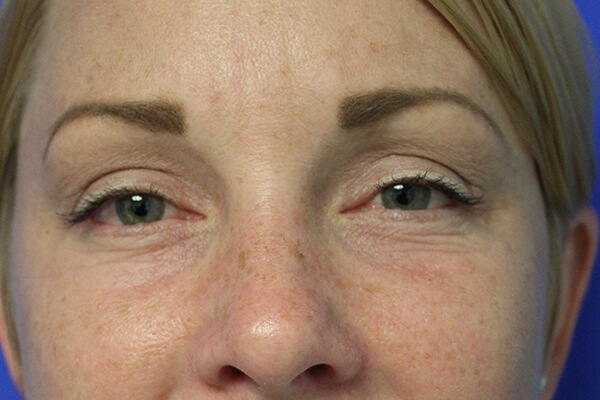 Frequently Asked Questions About Lower Blepharoplasty
Q. How much does lower blepharoplasty cost in Walnut Creek?
Your lower blepharoplasty cost will vary based on the specific lower eyelid concerns you have and the techniques used for your procedure.
During your consultation, Dr. Kim will provide you with a personalized lower eye lift cost based on your individual needs.
---
Q. Am I a good candidate for lower blepharoplasty?
If you are in good overall health and have no pre-existing eye conditions, you may be a candidate for lower blepharoplasty.
Lower blepharoplasty is an excellent solution for healthy adult men and women who wish to restore a more youthful appearance to their eyes. While under-eye bags and droopiness are more commonly a result of the natural aging process, they can also be inherited through genetics and occur as early as your 20s.
---
Q. What aesthetic concerns can lower eyelid surgery address?
Whether caused by heredity, aging, or lifestyle habits, the following aesthetic concerns can be addressed with a lower eyelid lift:
Constant puffiness and bags in your lower eyelids
Excess under-eye tissues that cause you to look perpetually tired, sad, or angry
Deep grooves under your eyes
Excess skin and lower eyelid wrinkles
Asymmetrical lower eyelids
Lower eyelid surgery can take years off your appearance and help restore a youthful appearance to your face.
---
Q. At what age should I get a lower eyelid lift?
Most patients choose to get an eye lift between the ages of 30 and 50. This is the age range where patients often see the most dramatic results.
There are no age restrictions on this procedure, so you can undergo an eyelid lift at any age. There is also no limit to the number of times you can lift your eyelids, so there is every reason to get one as soon as you want it.
---
Q. What type of anesthesia is used for lower eyelid surgery?
Lower blepharoplasty is performed on an outpatient basis with light sedation or general anesthesia. This will depend on the complexity of your surgery.
---
Q. How long does lower eyelid lift surgery take?
Lower blepharoplasty will typically take between one to two hours to complete if no additional procedures are performed. If you choose to combine your eyelid surgery with other procedures, it may take longer.
---
Q. Why choose Dr. Kim?
Dr. Haena Kim is a double board-certified facial plastic surgeon specializing in beautifying the face, head, and neck. She understands that your eyes affect the way the world sees you every day. She has dedicated her practice in Walnut Creek to helping patients love what they see in the mirror every day.
---
Q. Does Dr. Kim have before and after photos of lower blepharoplasty patients?
Yes. You can see before and after photos by visiting our lower blepharoplasty photo gallery.
Before choosing a plastic surgeon for your procedure, it is important to review their previous results. This will help you decide if one plastic surgeon can address your concerns better than another. Prior results are no guarantees of future success, but they often indicate a plastic surgeon's skills.
---
(925) 891-4135

Before and After Photos - Individual results may vary. Some images may be models.
© Copyright 2023  | HK Facial Plastic Surgery Inc. | Accessibility Statement | Privacy Policy | Digital Marketing by Plastic Surgery Studios