Asian Blepharoplasty in Walnut Creek, CA
In cultures throughout the world, the eyes have been characterized as windows into the human soul. Our eyes are a powerful aspect of who we are, telling others what we are feeling and thinking each moment of our day-to-day lives. While a "monolid" is most commonly found in those of Asian descent, an absent, asymmetric, or poorly defined crease of the upper eyelids  can hinder the expression of an individual's truest self. Asian blepharoplasty aims to create a natural, symmetric, and well-defined crease or, "double-eyelid," for  anyone with an absent or poorly defined crease.
Whether patients seek the removal of puffy, drooping skin, or wish to create a "double-eyelid" crease, Dr. Haena Kim has the specialized skill set and years of expert experience with Asian facial structures to meet each of her patient's unique needs. Dr. Kim's philosophy inspires her to create meaningful relationships with her patients, ensuring that she is not only a doctor but a guide when the expectation of beauty standards can become challenging. 
Asian blepharoplasty uses specific methods that won't erase your identity but adjust, refine, and celebrate the characteristics of Asian eyelids.
What Are the Benefits of Asian Blepharoplasty?
Enhanced Definition
---
Some patients who are pleased with not having a crease may still find displeasure with the excess fat in the upper eyelid area or bagginess in the lower lid area. Other patients may want to achieve a "double-eyelid" crease. No matter your concerns, Asian blepharoplasty can improve the definition, attractiveness, and overall visibility of the eyelids.
Comprehensive Rejuvenation
---
By correcting the eyelid area muscles, Asian blepharoplasty can address eyelid laxity that would otherwise impair your range of vision. Additionally, patients experience a greater sense of symmetry in the eyelids and overall harmony with the rest of the face. Many Asian blepharoplasty patients also find satisfaction in the expressiveness of their eyelids.
Preserved Cultural Identity
---
Everyone's anatomy is unique. Despite receiving a new eyelid crease, you will still look very much like yourself. Dr. Haena Kim works diligently to enhance your appearance while still maintaining detailed aspects of your Asian characteristics. The technique used will adapt to the patient's ethnicity with alterations that empower their cultural identity.
How Is Asian Blepharoplasty Performed?
Step 1: Consultation
Dr. Haena Kim is the only Asian female facial plastic surgeon in the East Bay with accomplishments in surgical artistry, precision, and appreciation for Asian aesthetics. Your consultation is the primary step to begin a meaningful and healthy dialogue surrounding your desired results, procedure steps, cost, realistic expectations, and healing times. Dr. Kim is fully equipped to answer your questions and clarify your concerns.
Step 2: Anesthesia
Asian blepharoplasty is performed under local anesthesia to ensure patient comfort and safety. Depending on the patient, local anesthesia with light sedation may be chosen. No matter the method, Dr. Kim ensures patients are unaware of pain or discomfort during the procedure.
Step 3: Procedure
To meet your needs, you will undergo one of two methods for Asian blepharoplasty.
Incisional Method: The incision method requires a full-length incision to be made at the appropriate height of the upper eyelid fold. This technique can result in slightly more swelling afterwards; however, this is negligible compared to the suture method. The incisional method offers patients the most comprehensive results.
Suture Method: The suture method uses smaller incisions and permanent suture is used to facilitate crease formation. This technique still requires incisions, and is best in only select patients
What Are Common Concerns After Asian Blepharoplasty?
Recovery
Before your treatment, Dr. Kim will provide a complete overview of your healing timeline and the steps needed to have a comfortable recovery process. While Asian blepharoplasty recovery is very manageable, patients should expect to wear pressure dressings for the first 24 hours. Icing the area is also recommended as you will experience some swelling over the next few days.
It is important to refrain from strenuous activities that might irritate or disrupt your sutures. Once sutures are removed, you may experience inflammation again; however, this is expected to subside in the following one to two weeks.
Scars
It is extremely rare for Asian blepharoplasty to leave any significant scarring as most incisions are hidden within the eyelid crease. There can be temporary redness of the incision afterwards but this depends on each patient's skin quality.
Cost
It is possible to find rough estimates for Asian blepharoplasty costs through trusted plastic surgery organizations. However, you cannot know the price of Asian blepharoplasty until Dr. Haena Kim examines you during your consultation. Many aspects change from patient to patient, such as anesthesia and the best techniques to achieve your goal. The cost can also vary based on the complexity of the concerns and the types of surgeries being combined.
Pain
Local anesthesia will prevent patients from experiencing any pain during their treatment. Post-operative pain can be easily controlled with over-the-counter medication, but is typically not needed. Please speak to your healthcare provider if you feel like you are experiencing severe pain that requires attention.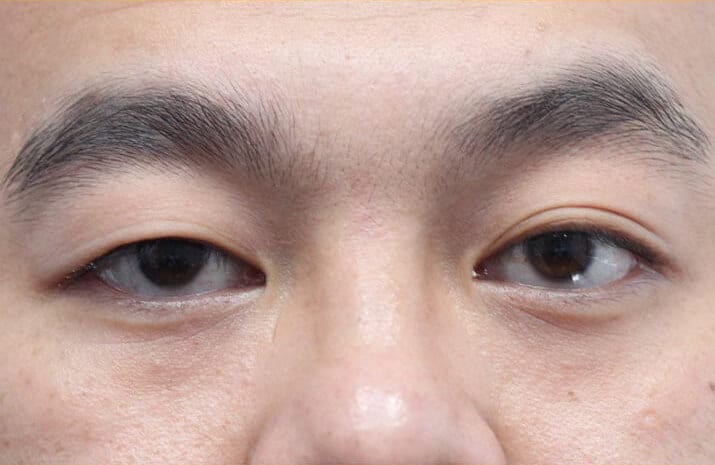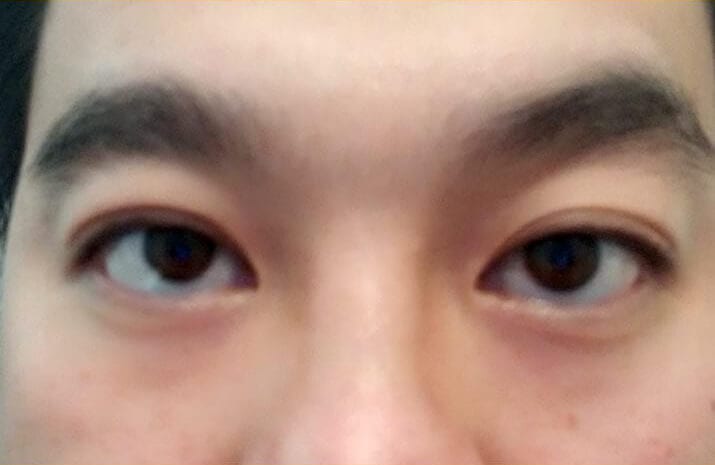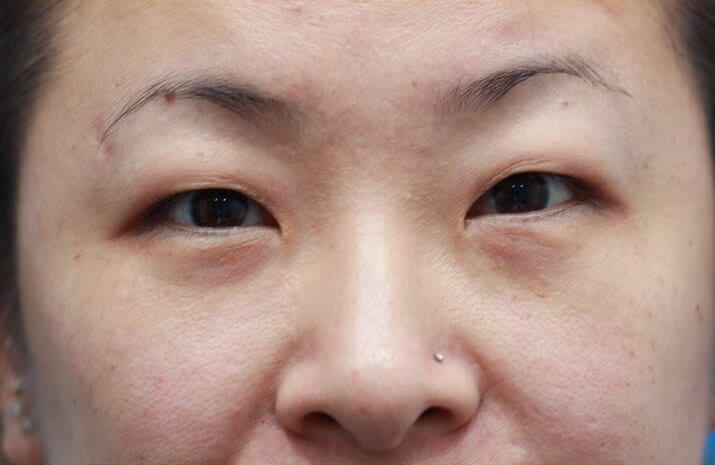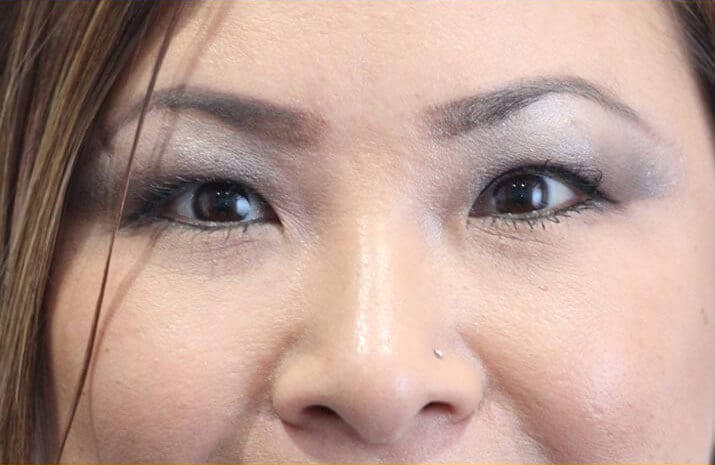 Frequently Asked Questions
Q. Am I the right candidate for Asian blepharoplasty?
Facial surgery of any kind can be a life-changing decision. That is why it is important to search for meaningful answers to why Asian blepharoplasty is right for you. Asian blepharoplasty can help patients enhance their natural beauty in a way that preserves their ethnicity and cultural identity.
---
Q. When will I see the final results of my Asian blepharoplasty?
Patients should notice their final Asian blepharoplasty results between four to six weeks after treatment. While 90 percent of the post operative swelling improves in the first month, the eyelid area may have slight swelling for several months. This last amount of swelling is barely noticeable by most patients.
---
Q. Why is ethnic blepharoplasty essential?
Some cosmetic surgeons take a one-size-fits-all approach when it comes to performing cosmetic facial surgery. Practicing generalization in medicine instead of individualized care plans is just as dangerous as it is narrow-minded. Dr. Kim understands the importance of caring for patients of Asian or ethnic descent with surgical techniques that are adaptive; ethnic plastic surgery techniques preserve a patient's unique traits and the cultural criteria that connect their beauty to their identity. Dr. Kim ensures that the principles governing your ideals for beauty will be preserved.
---
Q. What if I am not happy with my Asian Blepharoplasty results?
Asian blepharoplasty results are typically permanent. Dr. Haena Kim is a double-board certified plastic surgeon who has dedicated her life's work to specializing in and mastering all things that concern facial plastic surgery. Patients should feel at ease that she has used all of her professional knowledge and medical training to provide patient satisfaction and care to an extensive amount of the East Bay community and abroad.
---
Q. Will Asian Blepharoplasty improve my vision?
It is possible for sagging in the upper eyelids to inhibit the peripheral vision. By addressing excess skin or loose muscle, Asian blepharoplasty can restore the lift of the upper eyelids, repositioning the tissue for improved visibility and eyesight. Blepharoplasty only addresses the skin surrounding the eyes; it does not affect the eyes themselves.
---
(925) 891-4135

Before and After Photos - Individual results may vary. Some images may be models.
© Copyright 2023  | HK Facial Plastic Surgery Inc. | Accessibility Statement | Privacy Policy | Digital Marketing by Plastic Surgery Studios