restylane corrects moderate to severe signs of aging by plumping the skin from the inside out
Restylane
As we get older, a lot of changes happen in the body to produce the tell-tale signs of aging — skin becomes thinner and less elastic, volume loss occurs and wrinkles begin to make an appearance. The passage of time is inevitable, but showing your age doesn't have to be. Dr. Haena Kim is a double-board certified plastic surgeon in Walnut Creek, California, who combines her expertise in facial anatomy with artistry and a delicate touch to help you look as young as you feel with the most effective cosmetic treatments.
For patients who want to recapture smooth, glowing skin but don't want to commit to surgery, Restylane can smooth out wrinkles and add fullness where you need it most. Restylane is a hyaluronic acid-based dermal filler that can correct moderate to severe signs of aging by plumping the skin from the inside out, combating volume loss to restore supple, youthful features. Restylane treatments are noninvasive and performed in-office, allowing Dr. Kim to improve the appearance of wrinkles or facial folds and produce long-lasting results that will enhance your natural beauty in as few as 15 minutes.
What is Restylane?
Restylane is a dermal filler used to correct the signs of aging by adding fullness and volume. Restylane contains hyaluronic acid, a naturally-occurring substance found throughout the body that retains nearly 1,000 times its weight in moisture to keep your skin hydrated, supple and glowing. The unique properties of hyaluronic acid make it well-suited to correct a variety of age-related cosmetic concerns such as wrinkles, facial folds, contour deficiencies and volume loss.
How is Restylane Different From Other Injectables?
Restylane contains hyaluronic acid in a clear gel formulation, specifically designed to imitate the hyaluronic acid naturally produced by your body and assimilate within the dermis layer of tissue to provide immediate results. As an established and trusted brand, Restylane is the world's most used dermal filler and has a long history of success and safety. In the United States, it was the first hyaluronic acid-based filler to be approved by the FDA for cosmetic enhancement via injection into facial tissues.
Restylane is formulated using non-animal stabilized hyaluronic acid (NASHA) technology to create a firmer texture that produces more lifting capabilities and improved tissue integration. Restylane and Restylane Lyft are made with larger particle sizes to deliver more volumizing and plumping, while other Restylane products user smaller particles for more precise results. Restylane's unique NASHA technology allows different formulations and particle sizes that are able to achieve different effects and target a broad spectrum of specific concerns.
Finding the Right Restylane Product for You
Restylane offers a full line of hyaluronic acid-based products to meet a variety of patient concerns. With different formulations to choose from, it can be difficult to know which Restylane product best meets your needs. Although Dr. Kim will guide you throughout the decision-making process and recommend a formulation based on your specific goals, it's helpful to understand the differences between the products we offer before your treatment.
Restylane
Restylane is the original formulation and continues to be the premier choice for treating a variety of concerns in the lower face and lips. Restylane adds volume to correct moderate to severe wrinkles and facial and is used to:
Soften the appearance of marionette or parentheses lines
Smooth away nasolabial folds or laugh lines
Fill in creases around the mouth
Plump and enhance both the lips
Reduce hollows or dark circles beneath the eyes
Restylane Lyft
Restylane Lyft is a formulation of Restylane that contains the numbing agent lidocaine, added to reduce any pain or discomfort. Restylane Lyft is the only formulation used to soften wrinkles and correct volume loss in both the face and hands. Due to a higher concentration of hyaluronic acid and a firmer formula, Restylane Lyft is ideal for treating deeper wrinkles, contouring the cheeks and filling in the temples. It's also a popular choice for reducing facial depressions and other imperfections such as scarring. Dr. Kim can administer Restylane Lyft to:
Add fullness to your cheeks and midface
Smooth wrinkles and folds in the nasolabial area
Improve volume in the hands for a more youthful appearance
What Happens During a Restylane Treatment?
Your Restylane treatment will be a convenient, comfortable experience that lasts no more than an hour and may take as little as 15 minutes, depending on your areas of concern. Before beginning your treatment, Dr. Kim will thoroughly evaluate your facial features and discuss your concerns and aesthetic goals in detail to determine the appropriate formula and number of injections needed to achieve your desired outcome. She will then begin to carefully and strategically identify the injection sites and proceed using an ultrafine needle to minimize any discomfort. Each injection is fairly quick and over within seconds, with most patients reporting only a brief pinching sensation. The addition of lidocaine in Restylane Lyft will further reduce any pain or discomfort by numbing the area.
What Can I Expect After My Treatment?
After your treatment, there is no downtime required, but you may experience some slight bruising or swelling at the injection sites. This is completely normal and will begin to subside over the course of a few hours. Your results will be apparent immediately after your treatment but will continue to develop and take shape over the next day or two as the substances settle. Your full results will be evident within one to two weeks, producing noticeably smoother, softer and younger-look skin.
How Long Do Restylane Results Last?
Restylane is not a permanent solution for volume loss or wrinkle reduction as your body will naturally absorb the injected hyaluronic acid over time. Although Restylane tends to be durable and often produces long-lasting improvements, the longevity of your individual results will vary depending on which areas were treated, which formulation was used, the severity of your concerns and your unique physiology. For most patients, Restylane treatments can last for up to 18 months, while Restylane Lyft often lasts for up to 12 months. Results will dissipate faster and last for up to six months in areas with a high degree of movement, such as the hands. Touch-up appointments can prolong your results and Dr. Kim can develop an individualized treatment schedule to maintain an optimal outcome.
Frequently Asked Questions
Yes! Restylane can be combined with other treatments and even other fillers to target specific areas of concern and produce your desired outcome. Botox, chemical peels and Clear + Brilliant laser treatments are popular choices for dramatic results, but Dr. Kim can recommend which procedures or fillers will synergize with Restylane to help you achieve your aesthetic goals.
Generally speaking, filler selection is largely based on each client's goals and preferences. If you've tried other dermal fillers in the past and know what works best for you, that is often a good place to start. Dr. Kim can also guide your selection by discussing your needs and desired outcome, as some fillers are formulated to address specific concerns. Although hyaluronic acid-based fillers are vastly similar, subtle variations in consistency, particle size, concentration and more can produce different results.
Restylane adds volume as it's injected, producing noticeable improvements immediately after your treatment. Final results, however, can take some time to develop as the product settles and any swelling or bruising subsides. For most patients, this can take up to two weeks but may vary depending on the areas treated, how much Restylane was used and how quickly your body heals.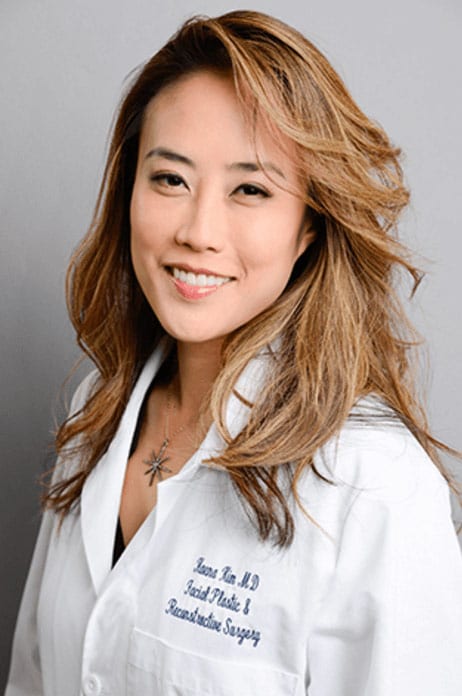 Maintaining a healthy, natural beauty always starts with a first step.
Let us take that journey with you.
(925) 891-4135

Before and After Photos - Individual results may vary. Some images may be models.
© Copyright 2021 | HK Facial Plastic Surgery Inc. | Accessibility Statement | Privacy Policy | Digital Marketing by Plastic Surgery Studios