Liquid Rhinoplasty contours the nose without surgery
Non-Surgical Rhinoplasty
Each year, nose jobs or surgical rhinoplasty are among the top five most-requested cosmetic procedures performed for both men and women alike. The nose plays an essential role in the overall symmetry and proportion of your facial features, and thus can detract from the natural and unique beauty of your face if the shape or structure does not seem to fit with your appearance. But while surgical rhinoplasty is often the go-to surgery for those who are unhappy with the way their nose looks, many people find they are not quite ready for the high cost, complications and lengthy periods of downtime that accompanies traditional rhinoplasty procedures.
A nonsurgical rhinoplasty sometimes referred to as a liquid rhinoplasty or a liquid nose job is a minimally-invasive cosmetic procedure that augments the shape of your nasal contours or abnormalities by administering dermal fillers, most often hyaluronic acid (HA) fillers, into the nose to restore your facial harmony and appearance. Liquid nose jobs can easily accomplish many of the enhancements that traditional surgical rhinoplasty procedures offer, but with zero downtime and temporary results. In fact, if you are not completely satisfied with the results of your nonsurgical nose job, the filler can easily be dissolved by Dr. Kim in as little as 24 hours.
Nonsurgical Rhinoplasty Candidates
As a nonsurgical and minimally-invasive procedure that does not involve anesthesia, incisions or downtime, nonsurgical rhinoplasty can be the right solution for anyone dissatisfied with the natural appearance of their nose. The best candidates for nonsurgical rhinoplasty, however, are those who only have mild to moderate external aesthetic concerns they wish to address, as nonsurgical rhinoplasty will not improve any interior issues of the nose involving nasal functionality; such as a deviated septum or abnormalities that interfere with nasal airflow. Having realistic expectations about what a liquid nose job can do for you is essential to your overall happiness with your results. With Dr. Haena Kim, a nonsurgical rhinoplasty can help to:
Improve overall symmetry of the nose
Straighten the appearance of the bridge
Smooth the appearance of bumps by filling in the surrounding nasal tissues
Eliminate the appearance of depressions, grooves, dents or other imperfections
Lift or modify the appearance of the nasal tip
As with any cosmetic procedure, nonsurgical rhinoplasty isn't right for everyone. Patients who are looking for a more dramatic transformation will not benefit much from a nonsurgical rhinoplasty, especially if they wish to reduce the overall size of their nose. While nonsurgical rhinoplasty can sometimes create the illusion of a smaller nose by improving its symmetry, those who want to reduce the width of their nasal bridge, alter the nostril shape, remove a large bump or achieve a more narrow nasal tip are better candidates for surgical rhinoplasty.
How Is Nonsurgical Rhinoplasty Performed?
Your nonsurgical rhinoplasty procedure will be performed in-office at Haena Kim MD and will typically take no longer than 30 minutes to complete. When you arrive for your appointment, Dr. Kim will carefully listen to your concerns and study your facial structure to determine where your injections will be administered for the desired results. A topical numbing cream may be applied to ensure you are entirely comfortable during the procedure. Using a combination of very thin needles and cannulas, Dr. Kim will inject small amounts of filler into the nose to correct your nasal irregularities.
While nonsurgical rhinoplasty is considerably less invasive and accompanied by fewer risks than surgical rhinoplasty procedures, that does not mean that serious complications cannot occur. Skin necrosis, otherwise known as tissue death can occur when an unqualified practitioner injects filler into an end artery in the nose, blocking or compressing the artery and inhibiting the flow of oxygen to your nasal tissues. Though serious side effects with nonsurgical rhinoplasty are rare, it is critical to choose a board-certified facial plastic surgeon with a vast knowledge of facial and nasal anatomy such as Dr. Kim to avoid any complications from your procedure.
Recovery From Nonsurgical Rhinoplasty
The improvements provided by your nonsurgical rhinoplasty should be immediately visible after your procedure; however, your best results will be revealed after a few short days when residual bruising and swelling has completely subsided. While the results of your nonsurgical rhinoplasty will be temporary, they will persist anywhere from 6 to 18 months after your procedure depending on the HA filler utilized as well as your metabolic rate, which varies from patient to patient. The faster your body metabolizes the filler, the shorter the effects of your liquid nose job will last.
Although results are temporary, nonsurgical rhinoplasty subtly adjusts the contours of the nose without ever having to go under the knife. Many patients are more than satisfied with the natural yet transformative results that a liquid nose job can provide for them, such as a more aesthetically-pleasing facial profile, corrected cosmetic abnormalities and improvements to their overall facial symmetry. Nonsurgical rhinoplasty can even be an ideal opportunity for patients to "try on" the results of a nose job before taking the plunge with surgical rhinoplasty.
If you are troubled by the shape or appearance of your nose but are not quite ready to commit to the permanence of cosmetic surgery, nonsurgical rhinoplasty is a non-invasive, highly effective and more affordable option for patients to improve the appearance of their nose and overall facial symmetry in as little as 15 minutes. Dr. Haena Kim is double board-certified and fellowship-trained in both head and neck surgery as well as facial plastic surgery to provide superior results to each of her patients with both surgical and nonsurgical rhinoplasty procedures. To learn more about how nonsurgical rhinoplasty can drastically transform your appearance, contact Dr. Haena Kim MD today at (925) 891-4135 to schedule your consultation.
Dr. Haena Kim Facial Plastic and Reconstructive Surgery is located in Walnut Creek, CA. We serve the surrounding East Bay areas, including Contra Costa County, San Ramon, Concord, Pleasant Hill, Danville, Richmond, San Pablo, and Lafayette.
Frequently Asked Questions
Nonsurgical rhinoplasty uses dermal fillers such as hyaluronic acid to refine the nose and create a more pleasing contour. Although fillers add volume, they are strategically placed to straighten or smooth bumps, correct abnormalities and improve the symmetry of the nose. Dr. Kim's artistic eye and expert technique help to ensure that your nonsurgical rhinoplasty will not significantly increase the size of your nose. In fact, these adjustments may actually make your nose appear smaller by bringing it into harmony with the rest of your face.
One of the benefits of nonsurgical or liquid rhinoplasty is that it can be reversed if you're unhappy with the results. By utilizing an enzyme called hyaluronidase, Dr. Kim can dissolve the filler in your nose and restore its natural shape and size within hours. This provides a clean slate for future adjustments or procedures. The temporary nature of nonsurgical rhinoplasty is also ideal for patients considering a surgical rhinoplasty, allowing them to "test drive" the results before committing to a more extensive procedure.
While traditional surgical rhinoplasty is often accompanied by two full weeks of downtime, nonsurgical rhinoplasty requires zero. Many of our nonsurgical rhinoplasty patients will immediately resume their normal day-to-day activities after their injections have been administered. While some individuals may experience some bruising, swelling or soreness at the site of their injections, these symptoms are usually mild and short-lived. Swelling and bruising should completely dissipate between 72 hours and one week, at which point the final results of your nonsurgical rhinoplasty will be apparent.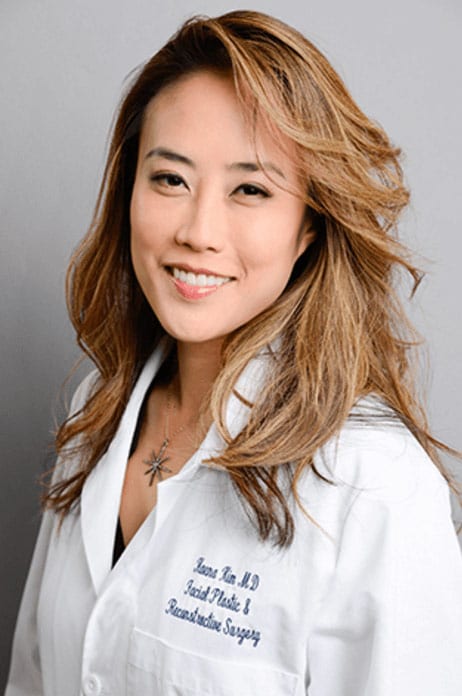 Maintaining a healthy, natural beauty always starts with a first step.
Let us take that journey with you.
(925) 891-4135

© Copyright 2020 | HK Facial Plastic Surgery Inc. | Privacy Policy | Digital Marketing by Plastic Surgery Studios