The only FDA-approved injectable treatment that destroys fat cells under the chin to improve your profile.
Kybella
Aging, heredity and weight gain can all play a role in the development of submental fullness, better known to most people as a double chin. Regardless of their weight or lifestyle habits, a double chin can plague the appearance of men and women alike, even if they are otherwise healthy and active. Submental fullness may cause you to look older or heavier than you are, and can leave you feeling self-conscious with the appearance of your profile— especially in our photo-obsessed culture.
Kybella is the first and only FDA-cleared injectable treatment for adults that dissolves fat cells beneath the chin to enhance the appearance of your profile and diminish your submental fat permanently. As a result, you'll achieve a more sleek and youthful facial contour without the need for neck surgery or downtime. If you've tried diet and weight loss methods but are still struggling to slim down the underside of your chin, Kybella offers patients a quick, nonsurgical solution to banishing their stubborn submental fat for good.
How Does Kybella Work?
Submental fullness is a common aesthetic concern that affects both women and men as they get older. In the past, the only way to permanently get rid of your double chin was through surgical procedures that required anesthesia, incisions and lengthy recovery periods. As a far less invasive option than liposuction or a neck lift, Kybella is the first-of-its-kind injectable treatment that melts away fat cells to offer long-lasting improvements to your appearance.
The active ingredient in Kybella is known as deoxycholic acid, which is a naturally-occurring molecule found in the digestive system. The role of deoxycholic acid in the body is to aid in the breakdown and absorption of dietary fat. When the synthetic form of this molecule is injected directly into the area of fat beneath the chin, the medication works to break down and destroy fat cells to remove this pocket of fat altogether and restore definition to the jawline.
The fat cells treated by Kybella are gradually flushed out by the body over the weeks following your treatment. Every adult has a predetermined number of fat cells in their body that becomes fixed during their adolescence. Since Kybella works to dissolve the fat cells in the chin region, once they are gone, they will never regenerate. So long as you maintain a healthy weight after your procedure, you will be able to enjoy your slimmer facial contours indefinitely.
Who is a Candidate for Kybella?
Kybella is an ideal option for adult men and women of all ages who are bothered by the appearance of a double chin. The treatment tends to work best for individuals who still have good skin elasticity present to ensure the skin conforms smoothly to the slimmer contour. While Kybella offers some tightening effects, it cannot reverse severe skin laxity. You may consider Kybella if any of the following applies to you:
You are troubled or self-conscious by excess fat under the chin
Your submental fat makes you look heavier or older than you are
You maintain a healthy diet and exercise regularly, but still, have submental fat
You wish to avoid invasive surgery
While Kybella is an ideal solution for most adults with submental fullness, the treatment is not right for everyone. Women who are currently pregnant or breastfeeding or patients with an active infection in the treatment area should not receive Kybella injections. During your consultation, Dr. Kim will sit down with you for a personal assessment and carefully listen to your cosmetic concerns and goals to help determine if Kybella is the right option for you.
What to Expect From Your Kybella Treatment
When you arrive for your Kybella treatment at Dr. Haena Kim's office, your appointment will start with the application of a topical anesthetic to ensure you are comfortable throughout the procedure. Once the numbing cream has taken effect, Dr. Kim will strategically mark the injection sites on your chin by drawing a grid pattern to ensure even and natural-looking results. Once marked, you will receive multiple injections across your chin with a fine needle. The total number of injections you receive will vary on the amount of fullness present beneath your chin as well as your goals for the treatment.
The injections take only a few minutes to administer, with the entire treatment completed in about 15 to 20 minutes. You should feel minimal, if any, discomfort during this injectable treatment. Many of our patients are surprised by how quick and painless the treatment process is.
What is the Recovery From Kybella Like?
When your Kybella treatment is complete, you are free to return to work or resume any of your regular activities with no downtime necessary. You may experience some temporary side effects after receiving your injections which can include swelling, soreness, redness or areas of hardness in the underside of your chin. Many of these effects will resolve on their own within a few days, but you may wish to use ice or over-the-counter pain medications to ease any discomfort.
The intensity and longevity of the side effects experienced will vary from patient to patient based on how they react to the medication. Swelling and soreness are generally the most common side effects and will usually peak two to three days after your appointment and entirely subside within a few weeks. By carefully adhering to Dr. Kim's aftercare instructions, you can help to minimize any residual side effects or discomfort that occurs.
What Can I Expect From My Kybella Results?
The medication in Kybella begins to take effect immediately after it is injected; however, it will take some time for your results to become apparent. Because Kybella relies on your body's natural ability to process and eliminate damaged fat cells, it can take a few weeks for the treated cells to be flushed out of the body. Most patients will see their more slender chin profile develop gradually, with full results visible four to six weeks after your treatment.
Once your final results from Kybella are visible, they will last for years to come. However, while the treated fat cells beneath your chin will never return to the area, it is still essential that you maintain a balanced diet and exercise regime to prevent the remaining fat cells in your body from expanding. So long as you continue your active and healthy lifestyle, you can expect to enjoy your more defined jawline for a lifetime.
How Many Kybella Treatments Will I Need?
Some patients may be able to achieve their desired results with one Kybella treatment, while others may require a series of Kybella treatments to reach their goals effectively. The number of treatments you will need will vary by factors such as your existing chin profile, your aesthetic goals and how your body responds to the medication. Most patients can achieve optimal results in just two to three treatment sessions spaced at least one month apart; however, you may receive up to six Kybella treatments depending on your needs. Dr. Kim will work with you to develop a personalized treatment plan according to your anatomy and goals so that you know how many Kybella treatments to expect prior to your treatments.
If you are ready to say goodbye to your double chin for good, it may be time to discover what Kybella can do for you. To schedule your in-person consultation, contact the office of Dr. Haena Kim today by calling (925) 891-4135 or request an appointment online.
Dr. Haena Kim Facial Plastic and Reconstructive Surgery is located in Walnut Creek, CA. We serve the surrounding East Bay areas, including Contra Costa County, San Ramon, Concord, Pleasant Hill, Danville, Richmond, San Pablo, and Lafayette.
Frequently Asked Questions
Kybella was FDA-approved in 2015 as a nonsurgical alternative to improving the appearance of moderate to severe submental fat. In a clinical study, 82.4 percent of people reported significantly improved satisfaction with their appearance. In that same study, Kybella was proven to be both a safe and effective treatment for those who wish to get rid of excess beneath the chin.
The most common side effects experienced following a Kybella treatment are minor and may include discomfort, swelling, soreness, bruising, redness or hardness in the treated areas. While serious side effects are rare with Kybella are rare, they can occur. If you experience nerve injury in the jaw, which may cause an uneven smile or muscle weakness, trouble swallowing or open sores, you should contact Dr. Kim or your healthcare provider immediately.
For patients who exhibit more severe submental fullness as well as reduced skin laxity and sagging skin, a neck lift or neck liposuction are two alternative surgical procedures that can help to improve the appearance of the neck and jawline. Neck lift surgery is performed under general anesthesia and removes both excess skin and fat from the area as well as tightens underlying muscles for a more youthful and slim neck contour. Neck liposuction may be performed under general or local anesthesia and works to suction excess fat out of the submental area permanently.
Both of these procedures will require a week or two of downtime but will yield lasting results much sooner than those achieved with Kybella injections. Dr. Kim will explain in detail the treatment options available to you and can make an expert recommendation as to which procedure will help you to reach your goals.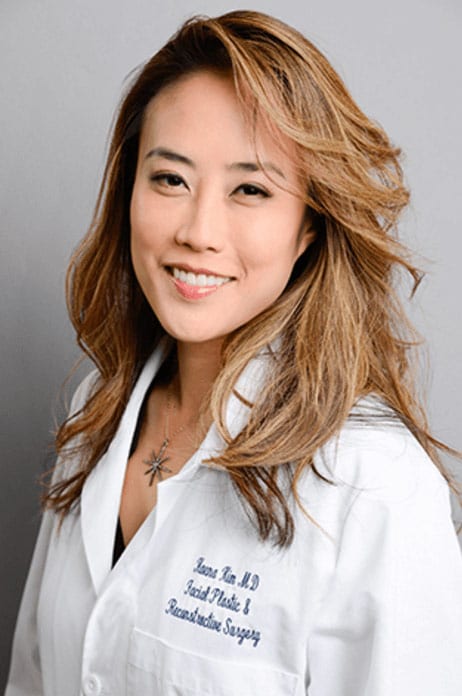 Maintaining a healthy, natural beauty always starts with a first step.
Let us take that journey with you.
(925) 891-4135

Before and After Photos - Individual results may vary. Some images may be models.
© Copyright 2021 | HK Facial Plastic Surgery Inc. | Accessibility Statement | Privacy Policy | Digital Marketing by Plastic Surgery Studios