A full, supple face is synonymous with youth.
Facial Fat Transfer
While many consider fine lines and wrinkles to be the telltale signs of an aged appearance, volume loss to the face is increasingly being recognized as a critical component to facial aging. A round, full face is generally what characterizes a youthful complexion with smooth, taut skin. As you age, however, that volume begins to atrophy and results in sagging tissues, facial hollows and the development of lines and wrinkles in the skin.
Facial fat transfer, also referred to as fat injections or fat micrografting, is a minimally-invasive cosmetic procedure in which donor fat is harvested from your own body to be re-injected into your face. A fat transfer can dramatically enhance facial fullness, fill in deep lines and creases and build up shallow contours. Unlike many injectables and dermal fillers, facial fat transfer is a wholly natural, safe alternative to these treatments that offers patients a more permanent solution to volumizing their skin. If you have considered facial rejuvenation procedures but desire longer-lasting results than injectable treatments can provide, facial fat transfer can help to restore natural-looking and youthful fullness to your face for years to come.
Who is a Candidate for Facial Fat Transfer?
A facial fat transfer is an ideal solution for healthy men and women who have suffered facial volume loss due to aging or an illness. Since fat transfers utilize fat from your own body to plump up sunken areas, you must have enough viable fat on your body to extract for the procedure. Common donor sites for facial fat transfers include the abdomen, side flanks, back or thighs. The harvested fat may be used to target a multitude of facial aging concerns, including:
Hollowing around the eye sockets
Flattened and sagging cheeks
Loose skin around the jawline (jowls)
Thinning lips with less definition
Creases from the corners of the nose to the mouth (nasolabial)
Lines from the corners of the mouth to the chin (marionette)
Deep-set wrinkles
While patients commonly use facial fat transfers to address concerns with a skeletal, aged appearance, fat injections may also be used to remedy issues with facial irregularities. Facial fat transfers can correct facial asymmetries, fill in scars or depressions or restore definition to the chin and jawline. During your consultation, double board-certified plastic surgeon Dr. Haena Kim will carefully assess your aesthetic concerns and goals to determine if facial fat transfer is right for you.
How is a Facial Fat Transfer Performed?
Facial fat transfer is a straightforward three-step procedure that includes extracting fat from one area of the body, processing it and then injecting the viable fat directly into your areas of concern. In most cases, only local anesthesia with sedation will be needed for this minimally-invasive outpatient procedure. If no other procedures are being performed, most patients can expect the procedure to be completed in about two hours or less depending on the number of areas being targeted.
Your fat transfer process will start with liposuction to remove some excess fat from your designated donor site. A small incision will be made for the insertion of a thin, hollow instrument known as a cannula, which is connected to a vacuum to dislodge and collect donor fat. Next, the extracted fat cells are placed into a centrifuge and spun at high speeds to separate the viable fat from impurities and damaged fat cells. The purified fat is then transferred into small syringes to be used for your facial injections.
Finally, the fat transfer process is completed by injecting your purified fat cells into the targeted regions of your face to restore volume and definition. Your face may be numbed with a topical anesthetic to ensure your comfort throughout the injection portion of the treatment. Dr. Kim will work to strategically inject your fat cells into multiple areas and depths of your face to achieve your desired aesthetic outcomes.
Facial Fat Transfer Recovery
The duration of your recovery after a facial fat transfer will typically be dependent on the amount of donor fat removed during the liposuction portion of your treatment—though downtime is usually minimal. Most patients can expect to resume their normal activities within five to seven days of their procedure. You will likely experience some slight swelling, bruising and discomfort at the donor site of your treatment as well as the injection sites of your face. Residual swelling will generally subside within a few days, and any discomfort can be easily managed with pain medication. By adhering to Dr. Kim's postoperative instructions, you can maximize the survival of the transferred fat cells and ensure a successful recovery process.
What Can I Expect From My Facial Fat Transfer Results?
The results of your facial fat transfer will be immediately apparent with the face appearing more voluminous and supple. As only about 50 percent or less of your transferred fat will survive in its new location, your face may appear fuller for the first few months after your procedure. Over those first few months, a portion of the injected fat will be safely reabsorbed by the body to reveal the desired results of your treatment.
Unlike dermal fillers and injectables, the results you achieve with a facial fat transfer will be permanent and will not require ongoing maintenance. So long as you maintain a stable and healthy weight, the transferred fat cells should survive indefinitely. Patients can expect a rounder, smoother and more youthful complexion that lasts for years to come.
If your face has lost its youthful fullness and is now riddled with wrinkles, creases and hollowed areas, a facial fat transfer is a natural and lasting solution that restores volume to your complexion. To learn more about facial fat transfers and whether it is the right procedure for you and your goals, contact the office of Dr. Haena Kim at HK Facial Plastic and Reconstructive Surgery today at (925) 891-4135 to schedule your in-person consultation.
Dr. Haena Kim Facial Plastic and Reconstructive Surgery is located in Walnut Creek, CA. We serve the surrounding East Bay areas, including Contra Costa County, San Ramon, Concord, Pleasant Hill, Danville, Richmond, San Pablo, and Lafayette.
Frequently Asked Questions
While some patients can achieve their desired appearance with a single facial fat transfer procedure, the number of treatments you will require will be dependent on your aesthetic goals as well as how much of your donor fat survives from the first transfer.
Facial fat transfers are an autologous treatment, meaning that unlike the synthetic ingredients in dermal fillers, it uses your body's own tissues from an area of excess to fill in another area. Because of this, there is no risk of causing an allergic reaction since the body will recognize its own tissue. Unlike dermal fillers, a facial fat transfer does not require ongoing maintenance treatments to keep your results. The transferred fat that survives will last indefinitely so long as your weight does not fluctuate.
An additional perk of a facial fat transfer is that it can eliminate a small amount of fat from one of your existing problem areas. The fat for your injections can be extracted from virtually any region of the body that contains excess fatty tissues. Dr. Kim will work with you to decide which area or areas of the body are eligible as well as which area you would most like to see reduced.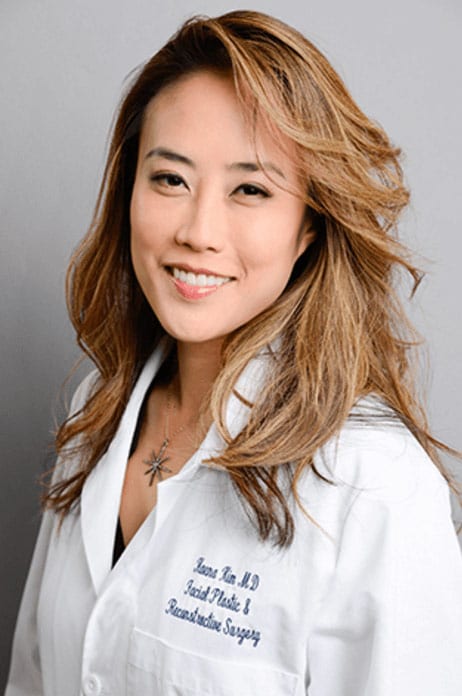 Maintaining a healthy, natural beauty always starts with a first step.
Let us take that journey with you.
(925) 891-4135

Before and After Photos - Individual results may vary. Some images may be models.
© Copyright 2021 | HK Facial Plastic Surgery Inc. | Accessibility Statement | Privacy Policy | Digital Marketing by Plastic Surgery Studios