Restores lost volume instantly and encourages new collagen and elastin production over time
Juvéderm
Your skin often makes an impression on those around you even before you can. And it can convey a great deal of information about your age, health and mood. Premature wrinkles, for example, can make you look much older than you are. Skin that lacks vibrancy can easily be mistaken for a poor diet. And drooping and sagging skin can make you look fatigued or exhausted even when you don't feel that way at all. These problems can quickly take an emotional toll on you. Looking in the mirror each morning can cause significant distress instead of joy, and you might carry this mood with you throughout the day. Feeling dissatisfied with the way you look can even begin to affect your relationships, both at work or in your social circles.
However, you might not be ready for — or even need — invasive treatments to restore your skin's youthfulness, health and beauty. You may have either a localized concern or problems which are minor and don't yet require procedures, such as a chemical peel or mini facelift. This is when your board-certified facial plastic surgeon, Dr. Haena Kim, will suggest a dermal filler treatment, like Juvéderm™. Juvéderm provides patients a highly-effective way to achieve visible rejuvenation immediately. The procedure also lasts, giving ongoing benefits for weeks and months (in some cases, years) after your office visit. Because the treatment uses compounds found naturally in the body, Juvéderm also offers exceptional safety. Add to this the speed and convenience the treatment provides and you have a wonderful way to have facial rejuvenation on your terms. Learn if you qualify for a Juvéderm treatment now.
What is Juvéderm?
Juvéderm is a hyaluronic-acid based injectable treatment, explicitly designed to rejuvenate the skin. The filler restores lost volume instantly and encourages new collagen and elastin production over time, which increases skin tone, elasticity and hydration. Juvéderm can improve a variety of common, mild to moderate facial aging symptoms, including fine lines, wrinkles and folds. Through comprehensive improvements like these, Juvéderm patients can enjoy substantially younger, healthier and more beautiful skin that lasts. While Juvéderm is not a permanent treatment, regular touch-ups can extend the benefits of the treatment almost indefinitely. Like all treatments, however, you will want to have your treatment performed only by a board-certified facial plastic surgeon, like Dr. Haena Kim of HK Facial Plastic Surgery, to have the best possible results.
How does Juvéderm work?
Juvéderm immediately restores lost volume where it is introduced by your surgeon. The filler contains a unique and proprietary formulation of hyaluronic acid called Vycross™. Vycross, which contains hyaluronic acid in multiple molecular weights, creates a product with a significantly smoother consistency than alternative fillers. A smoother filler makes application by your surgeon easier, more controlled and, more importantly, gives you visibly superior results. Results from Juvéderm with Vycross also last longer than other products, allowing you to enjoy your results for a longer period between touch-ups. With Juvéderm, you can have fewer treatments and enjoy greater value when you choose the filler to treat your facial aging concerns.
Where can I have Juvéderm?
One of the greatest benefits of selecting Juvéderm is that the Juvéderm line includes products explicitly geared for every area of the face. When you choose Juvéderm, you can enjoy visible, comprehensive and lasting rejuvenation wherever you are experiencing problems, with the same high-quality results no matter which product you have. Dr. Kim can select the specific formulations that will give you the best results in each of your concern areas. Your surgeon can further tailor your treatment by choosing the precise amount of filler required to achieve your desired results while maintaining a natural and beautiful appearance that never looks overdone.
A Juvéderm Product for Every Facial Concern
You can choose any of the following Juvéderm products to achieve your facial rejuvenation goals quickly and safely.
Juvéderm XC
Juvéderm XC offers a medium-density injectable gel created to treat moderate aging symptoms in the face, such as:
Nasolabial folds, or "smile lines," which connect the corners of the nose and mouth
"Parentheses lines," which form at the corners of the mouth
"Horizontal lines," which extend the length of the forehead
"Frown lines," or glabellar lines, which appear between the eyebrows
"Marionette lines" that fall from the corners of the mouth towards the chin
Wrinkles, hollows and dark circles that form beneath the eyes
Juvéderm XC, in the hands of a board-certified facial plastic surgeon, like Dr. Haena Kim, can also improve aging symptoms in the lips. A Juvéderm XC treatment will feel very comfortable since it includes lidocaine, a mild numbing agent.
Voluma
Voluma is intended to restore volume to the cheeks safely. The filler has been approved by the FDA expressly for this purpose in both male and female patients 21 years of age or older. Like all Juvéderm products, Voluma can restore volume, enhance skin tone and texture and improve hydration for a thoroughly refreshed look that begins immediately after treatment and continues to improve over time. This unique dermal filler can also improve facial aging features throughout the midface region, including the temples.
Vollure
Vollure by Juvéderm improves wrinkles, lines and folds found in the lower areas of the face. The FDA has approved Vollure for this purpose and it can improve several critical problems affecting this area of the face, such as drooping and sagging skin along with wrinkles and folds.
Vollure can improve:
Nasolabial folds
Smile lines
Marionette lines
Drooping or sagging skin along the jawline
Loss of volume in the midface region
Results from your Vollure treatment can last for up to two years. Vollure patients enjoy extremely natural-looking results after treatment, in part due to the filler's exceptionally smooth consistency. However, it is the skill of your surgeon when having any dermal filler that will contribute the most to your results.
Volbella
If you have experienced some troubling loss in volume in your lips, Juvéderm's Volbella filler can give you relief. Volbella is among the smoothest of Juvéderm's products and was designed expressly to treat the delicate tissue of the lips. Like other Juvéderm products, Volbella has been FDA-approved for its intended purpose, treating volume loss in the lips and around the mouth. Using Volbella, your surgeon can plump your lips and also improve fine lines around the mouth, called perioral lines, to provide comprehensive rejuvenation of the entire mouth area that lasts. Volbella can improve treated areas for up to a year or more.
Do I qualify to have Juvéderm?
To be sure you qualify for a Juvéderm treatment, schedule an in-person consultation with Dr. Haena Kim at HK Facial Plastic Surgery today. If you have mild to moderate aging symptoms in the face, which are troubling you, you are likely a good candidate for Juvéderm. During your office visit, Dr. Haena Kim will perform a complete exam, paying careful attention to your concern areas. She will also spend time with you to understand your goals thoroughly. Based on these factors, she will recommend the Juvéderm filler or fillers that will provide you the greatest benefit. If you choose to have treatment, she will administer your treatment and perform your touch-ups, as needed, in the future.
What is a Juvéderm procedure like?
A Juvéderm dermal filler treatment offers immense convenience as well as fast results in a highly effective treatment. For best results, Dr. Kim will recommend you avoid certain prescription blood thinners and anti-inflammatory medications before you have Juvéderm. Avoiding these medications before treatment can significantly reduce the likelihood of bruising in treated areas.
Dr. Kim will begin your filler procedure by applying a topical anesthetic to your skin, where you will have your injections. This will ensure that your entire treatment is completely comfortable. After the ointment has taken effect, she will then administer the precise amounts of filler determined during your consultation to achieve your results. Once Dr. Kim has completed your injections, you can return to your day, without downtime and with no limits on your activities.
What results can I expect from Juvéderm?
You will experience mild bruising and swelling in treated areas after Juvéderm. This is a natural but temporary side effect from treatment and not a cause for concern. Symptoms are typically extremely mild and most individuals feel comfortable enjoying social activities immediately after treatment. If you wish, you may use ice after having Juvéderm to reduce swelling and increase your comfort. Women can safely use makeup, also. Within two days, these concerns will have almost fully subsided. At this time, you can begin enjoying your results. You will see beautifully restored volume in areas of treatment and Juvéderm's many additional benefits will become increasingly apparent in the weeks to come. Your skin will feel firmer and look more toned. You will also notice improved hydration, which will give your skin an attractive, youthful glow. You can maintain your amazing new look easily with occasional touch-ups, performed by Dr. Kim when you need them.
Visit Dr. Haena Kim for your Juvéderm treatment today!
Juvéderm gives men and women a highly-effective way to reduce early aging signs in a comfortable, quick and safe treatment that you can have today, performed by board-certified facial plastic surgeon Dr. Haena Kim in the East Bay.
Call HK Facial Plastic Surgery today at 925-891-4135 to secure your in-person consultation and have your Juvéderm treatment and results now.
Frequently Asked Questions
Most patients love their Juvéderm results. The filler is both highly effective and extremely versatile. You can also enjoy exquisite results when you have your procedure performed by a skilled and experienced board-certified facial plastic surgeon, like Dr. Haena Kim, who understands the intricacies of facial anatomy and can tailor your treatment to enhance your naturally beautiful look. However, if your results do not meet your expectations, you can discontinue Juvéderm with no adverse side effects. In time, your new look will fade and your skin will return to its previous condition. If you prefer not to wait, you can visit Dr. Kim again for a hyaluronidase injection, which safely and effectively reverses the results of Juvéderm.
With Juvéderm's wide selection of products, you likely will not need to have another dermal filler in addition to Juvéderm. You may, however, benefit from additional treatments that can enhance your beautiful Juvéderm results. For example, some patients choose to have Botox®, in addition to Juvéderm, to have additional smoothing of skin around the eyes and in the forehead. Other patients may elect to have Kybella, to reduce submental fat (the fat beneath the chin) for a smoother and more toned look in the lower face. Dr. Kim will recommend additional treatments you may benefit from during your consultation. You also should feel empowered to ask about specific treatments you are interested in having. Dr. Kim will assess whether or not they are right for you and your goals.
You will most likely experience only very mild side effects from having Juvéderm, as discussed above. In very rare instances, individuals who have had Juvéderm experience more severe symptoms after treatment, such as allergic reactions, hives, difficulty breathing or swallowing and hoarseness, sometimes accompanied by swelling of the lips, mouth or throat. If you experience any of these symptoms, contact Dr. Kim or another medical professional immediately. Dr. Kim carefully screens all patients based on their prior medical history before treatment to minimize your risks and ensure your complete safety and results.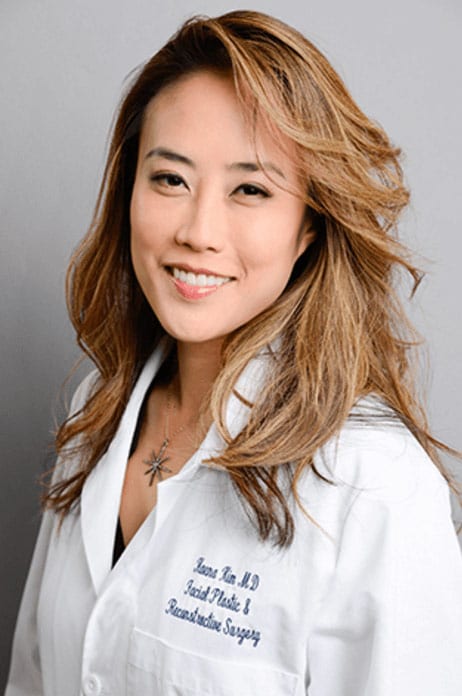 Maintaining a healthy, natural beauty always starts with a first step.
Let us take that journey with you.
(925) 891-4135

Before and After Photos - Individual results may vary. Some images may be models.
© Copyright 2021 | HK Facial Plastic Surgery Inc. | Accessibility Statement | Privacy Policy | Digital Marketing by Plastic Surgery Studios