Blepharoplasty in Walnut Creek
Our eyes are a powerful aspect of our youth and how we define ourselves. Our eyes are also responsible for much of our human connection, telling others what we are feeling and thinking from moment to moment. As we age, the eyes can begin to develop a puffy, droopy, and worn look. Thankfully, blepharoplasty (eyelid surgery) aims to restore a youthful and well-defined eyelid appearance. Additionally, blepharoplasty can help correct sagging eyelids that block or hinder vision.
Dr. Haena Kim has a specialized skill set and years of professional experience to meet each patient's individual cosmetic needs. Dr. Kim's philosophy inspires her not only to be a doctor but a guide for patients struggling with cosmetic challenges. 
What Are the Benefits of Eyelid Surgery?
Rejuvenated Youth
---
Lax skin surrounding the eyes can cause the eyes to look tired, unalert, and worn. Wrinkles in the eyelids can also significantly age the entire face.
Blepharoplasty can rejuvenate a drained appearance for a more energetic and youthful expression.
Revitalized Definition
---
Hooded upper eyelids can cast shadows, and baggy lower eyelids can create dark circles around the eyes.
Blepharoplasty refines the eyelids' shape and evenness to restore a brighter appearance to the eyes.
Clearer Vision
---
Excessive amounts of drooping skin in the upper eyelids can obstruct vision. Blepharoplasty helps reverse this obstruction by removing excess skin and repositioning loose tissue. This creates an open site line.
How Is Eyelid Surgery Performed?
Step 1: Consultation
Dr. Haena Kim is one of the only few plastic surgeons in the East Bay specializing in and performing facial plastic surgery exclusively. She has years of experience and a deep understanding of facial anatomy and the complex interplay of its components.
During your blepharoplasty consultation, you will discuss your expectations, blepharoplasty costs, procedure steps, and recovery timeline. Dr. Kim is prepared to answer your questions and clarify your concerns at each step of the treatment process.
Step 2: Anesthesia
Blepharoplasty is performed with local anesthesia to ensure patient safety and comfort. Local anesthesia with light sedation or general anesthesia may be selected to accommodate specific patients more effectively.
No matter which method is chosen, Dr. Kim ensures patients are unaware of pain or discomfort during the procedure.
Step 3: Procedure
Lower Blepharoplasty 
Lower eyelid incisions will be made just beneath the lower lash line or on the inside of the lower lid based on issues being addressed. Excess fat and skin will be removed to eliminate the appearance of sagging skin or eye bags. Fat deposits in this lower eyelid can also be repositioned to balance volume under the eyes.
Upper Blepharoplasty
Upper eyelid incisions will be made in the natural crease of the upper eyelid for optimal concealment. Excess skin and fat are removed to reverse any hooding, sagging, and puffiness. In addition to the skin, sagging fat or muscle tissue may be repositioned to reverse obstructed vision.
Asian Blepharoplasty
Asian blepharoplasty surgery is a specialty procedure that helps create a defined "crease" in Asian patients' upper eyelids. This is not a "westernization" procedure, but rather an enhancement to those patients seeking creation of a double eyelid.
Incisional Method: A full-length incision must be made at the appropriate height of the upper eyelid fold. Compared to the suture method, this technique can result in a negligible amount of additional swelling. Patients are offered the most comprehensive results with the incisional method.
Suture Method: The suture method uses permanent sutures and smaller incisions to facilitate crease formation. The suture method still requires incisions and is only ideal for specific patients.
What Are Common Concerns After Blepharoplasty?
Recovery
Dr. Kim will provide a comprehensive overview of your blepharoplasty recovery timeline and the steps required to have a comfortable healing process.
Eyelid surgery recovery is very manageable, but patients should expect to wear pressure dressings for the first 24 hours. Applying ice to the eyelids during the post-operative period is also advised, as you will experience some swelling.
It is necessary to refrain from strenuous activities that might irritate or disrupt your sutures or increase blood flow to the eyes. Once your sutures are removed, you may experience additional inflammation; however, this is expected to subside within one to two weeks.
Scars
Blepharoplasty does not leave any significant scarring as most incisions are hidden by the natural eyelid creases.
Cost
Rough estimates for eyelid surgery costs can be found through trusted plastic surgery organizations. However, you cannot know the actual price of your blepharoplasty until Dr. Haena Kim evaluates your eyelid issues. Facial anatomy and cosmetic needs change from patient to patient, causing the cost of blepharoplasty to vary. Blepharoplasty cost can also fluctuate based on the complexity of the concerns and the surgeries being combined.
Pain
Anesthesia will prevent patients from experiencing discomfort or pain during their blepharoplasty. Post-operative pain can be managed with over-the-counter medication.
Please speak with your healthcare provider if you feel like you are experiencing severe pain that requires attention.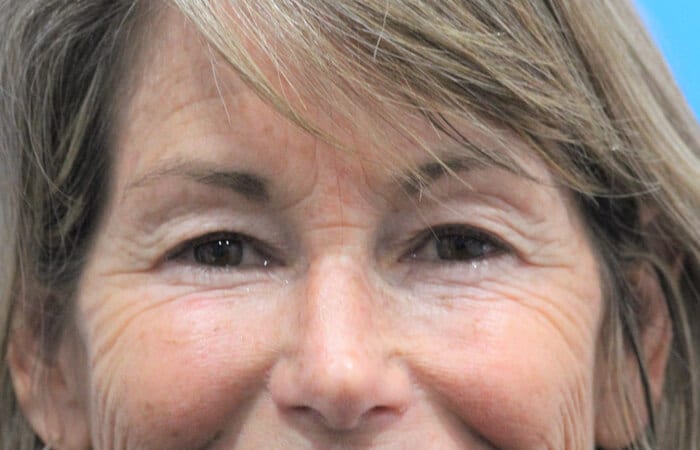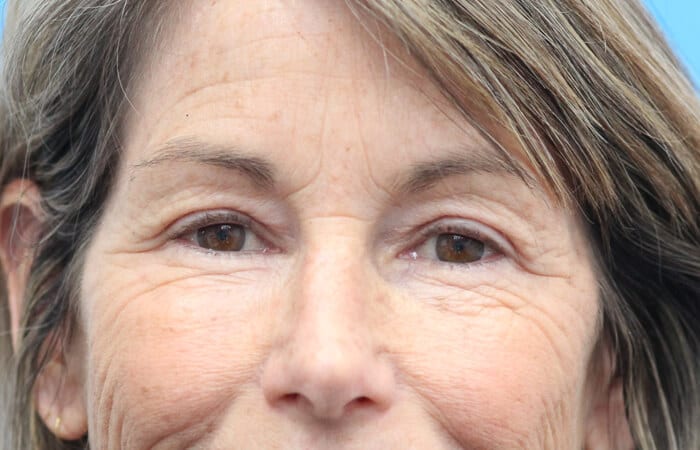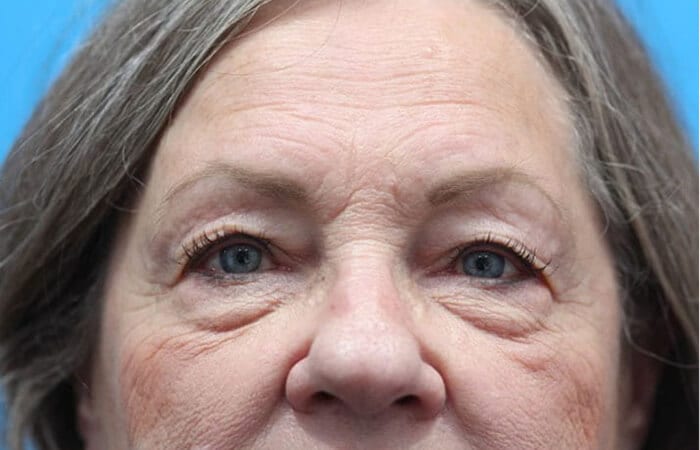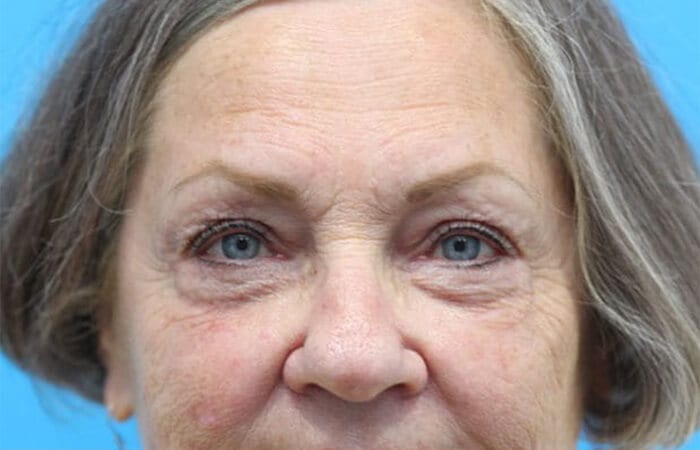 Frequently Asked Questions About Eyelid Surgery
Q. How should I prepare for my blepharoplasty?
Blepharoplasty is performed as an outpatient procedure, but you will not be able to drive yourself home afterward. Patients should arrange for transportation to and from the surgical center. Patients can also prepare by filling their pain prescriptions before treatment (if prescription medication is being used).
---
Q. Am I the right candidate for eyelid surgery?
Good candidates for blepharoplasty in the East Bay area have realistic expectations and cosmetic goals. Potential candidates may require correction in the upper eyelids, lower eyelids, or both. Additional candidates are those who have lost their range of vision due to sagging skin. Blepharoplasty candidates should not smoke and be in overall good health.
---
Q. When will I see the final results of my eyelid surgery?
Eyelid surgery results will become fully visible within four to six weeks. Most of the bruising and swelling will subside within the first month, although the eyelid area may have slight swelling for several months. Once fully healed, the eyelids will appear more youthful, lively, and defined.
---
Q. Should I get ethnic blepharoplasty instead of traditional blepharoplasty?
Traditional eyelid surgery is designed to primarily correct cosmetic issues concerned with aging and cannot always accommodate non-age-related concerns. Ethnic patients should consider facial plastic surgery tailored to their ethnic features. 
Dr. Kim offers Asian blepharoplasty or ethnic blepharoplasty to correct cosmetic concerns or signs of aging while maintaining the important characteristics of Asian ethnic descent. Ethnic or Asian plastic surgery techniques preserve a patient's unique traits and the cultural criteria that connect their beauty to their identity.
---
Q. What if I am not happy with my blepharoplasty results?
Blepharoplasty results are permanent; however, revision blepharoplasty or secondary eyelid surgery can be performed.
Dr. Haena Kim is a double-board certified plastic surgeon who has devoted her life's work to specializing in and mastering all elements of facial plastic surgery.
---
Q. How much will eyelid surgery improve my vision?
Blepharoplasty is a cosmetic procedure and cannot correct nearsightedness, farsightedness, or astigmatism. However, removing excess skin from the upper eyelids can greatly increase a patient's line of sight. Blepharoplasty can also help to remove any loose skin that would obstruct the sides of central vision (peripheral vision).
---
(925) 891-4135

Before and After Photos - Individual results may vary. Some images may be models.
© Copyright 2023  | HK Facial Plastic Surgery Inc. | Accessibility Statement | Privacy Policy | Digital Marketing by Plastic Surgery Studios