Maintain Your Asian Aesthetic With Facelift Surgery
3 Minute Read: 
Regardless of your ethnicity, every person can suffer from a tired and worn out facial appearance caused by wrinkles, fine lines, and sagging skin on the face. 
Unfortunately, while a facelift is a transformative cosmetic procedure, this surgery can cause certain difficulties with Asian men and women who are looking to maintain their ethnic appearance. That is because facelift surgery can sometimes "Westernize" men and women of ethnic descent, affecting some of the common and prominent features of the Asian facial aesthetic.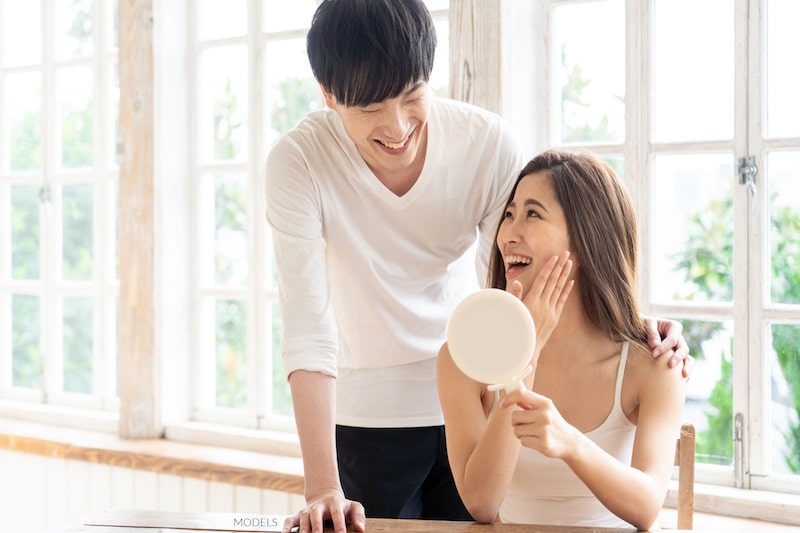 That is not to say that Asian men and women should stay away from facelift surgery. Instead, it simply means that Asian people should go into their facelift surgery with a clear understanding of what they want or do not want from their procedure. 
Below, you will find information on facelift surgery, especially in regards to maintaining your Asian aesthetic with your procedure.
What Is a Facelift?
Facelift surgery is one of the most common and successful cosmetic surgical procedures available. In fact, in 2020, nearly 235,000 facelift procedures were performed. 
For this surgery, Dr. Kim will make incisions at the hairline of your temples and continue those incisions down the profile of your face, stopping at the lower scalp. 
From here, Dr. Kim will tighten underlying facial muscles and then surgically remove any excess skin. 
Finally, the remaining skin is tightened, and the incisions are closed. 
This procedure can reduce the presence of wrinkles and fine lines and get rid of any loose and sagging skin on the lower portion of the face to help you look more youthful and revitalized.
How Does Facelift Surgery Affect Asian Patients' Ethnic Looks?   
Certain surgical procedures can "Westernize" the Asian face. Current trends aim more towards enhancing a youthful and rejuvenated appearance as opposed to looking more Western. This is especially true with cosmetic procedures on the face, such as facelift surgery and procedures involving the areas around the eyes (blepharoplasty; lower blepharoplasty; and brow lift, also known as a forehead lift). However, it is important that Asian patients retain their ethnic appearance, since so many Asian men and women are proud of their heritage and tradition. 
One of the qualities that makes Asian skin so unique is that it tends to be thicker than the skin of other ethnicities. Because of this, different, less invasive facelift techniques must be used. 
Additionally, the facial structure of the Asian face is unique, and this must be kept in mind during facelift surgery. 
How Can Asian Patients Retain Their Asian Ethnicity Through Facelift Surgery?
There are two important things that Asian patients can do to improve the aging appearance of their faces while still keeping their Asian aesthetic. 
The first is to choose a plastic surgeon who specializes in ethnic procedures, especially facelifts. Luckily, you don't have to look further than Dr. Haena Kim, who has extensive knowledge and experience treating Asian patients. 
Additionally, it is necessary that you have a clear understanding of what you want with your facelift results.
If you have any specific questions about what this procedure entails, Dr. Kim will discuss your options at your facelift consultation. 
It is important that you understand that maintaining your beautiful and unique Asian appearance will require a more conservative approach that enhances your facial aesthetic while maintaining the qualities that make you look distinctly Asian.
Looking to Rejuvenate the Appearance of Your Face? Consider Facelift Surgery
If you are tired of the wrinkles, fine lines, and sagging skin on your face, then you may want to consider a facelift. 
We encourage you to contact us today at (925) 891-4135 or fill our online form to schedule a consultation with our board-certified surgeon, Dr. Haena Kim to determine if facelift surgery can help you restore a youthful appearance.